The Founder of the Reading Academy Wing Chun & Kali Eskrima schools since 1992 and The Leading Authority of the "European Wing Chun Association"
Loukas Kastrounis is a third-generation descendant of Yip Man through his teacher Wong Shun Leung, and a second-generation Kali instructor through Dan Inosanto. He teaches martial artists, law enforcement officers, and the military. His work is featured in the British and international press and he is a Combat Magazine Hall of Fame inductee.
Most notable achievements of Master Loukas Kastrounis
2003 received the Hall of Fame award
2023 Published Martial arts book
`Wing chun in Depth Skills for combat, Strategies for Life` It will be published in June 2023.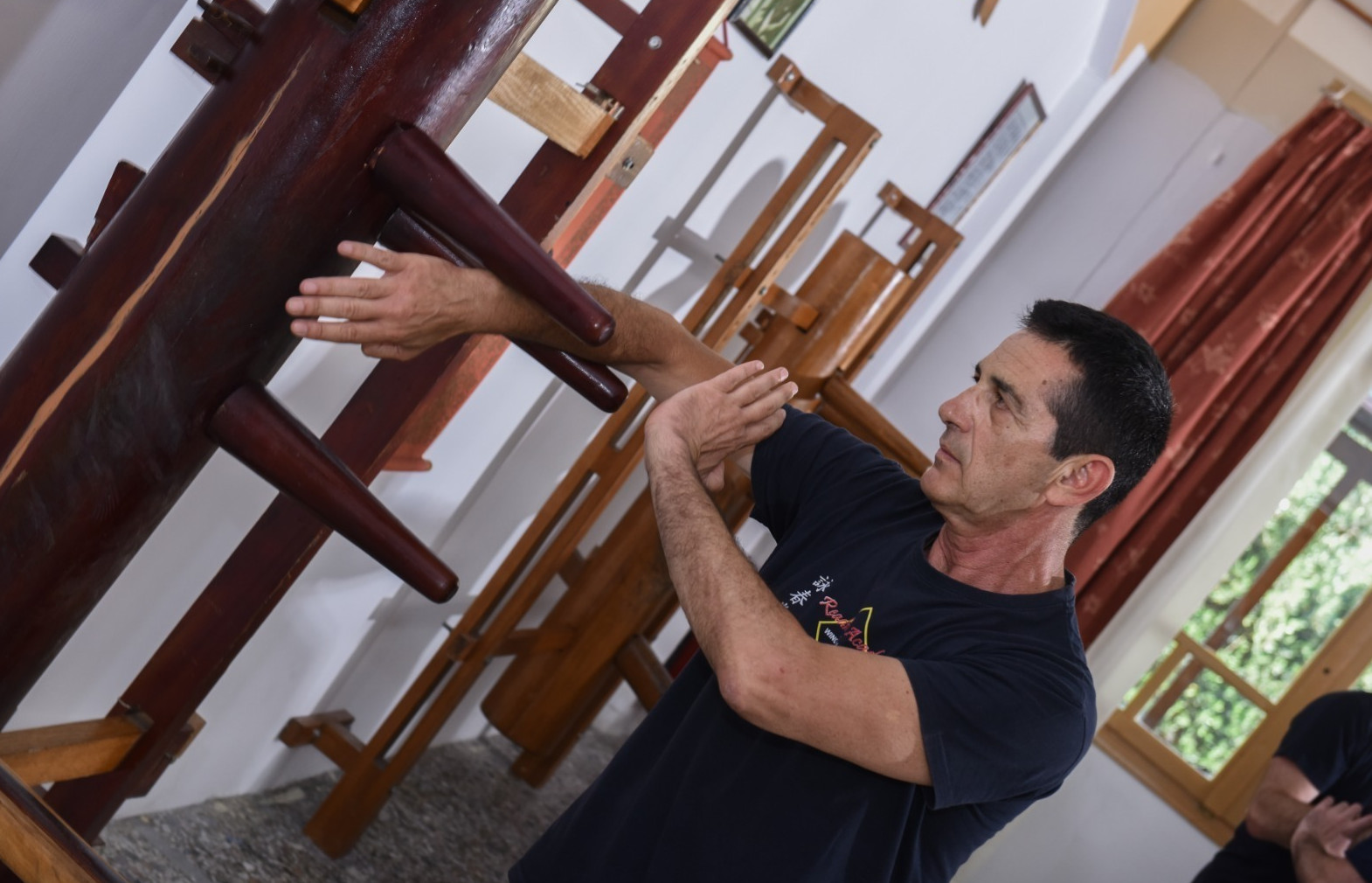 Loukas was born In Athens Greece in July 1957.
His father George was a well known Maestro violinist which is where  Loukas found his love of music and went on to study the piano at National Conservatory of Athens.
While continuing with his school education at a young age he joined the local boxing club in Peristeri -Athens.
In 1982 Loukas moved to England & worked in the catering industry where he discovered and joined the legendary Basement in London where he was then taught Wing Chun – Kali Eskrima at the school of Sifu Nino Bernardo-Wong Shun Leung under the guidance of Nino Bernardo that sadly closed in December 2000).
In the first 2 years Loukas had trained solidly on a one-to-one basis with with Sifu Nino Bernardo at "The Basement" in London and continued his private and group tuition.
Loukas Kastrounis has been teaching the Wing Chun Kung Fu and Kali Eskrima JKD system`s since 1992 and then became Nino Bernardo's UK representative until 2008.
With the authorization of his teacher Nino Bernardo, Loukas in 1992 opened the first Wing Chun school in Reading, Berkshire –"The Garage" to train himself and many seasoned martial artists – some of whom were Karate, Taekwondo, Aikido, Kickboxing etc., practitioners
Until 1995 there were too many people to fit in his small garage.
In August 1995 Loukas renamed his school The Reading Academy of Wing Chun – Kali Eskrima/JKD  in Berkshire which became The headquarters of "The Reading Academy" schools. Since then the Reading training school in Berkshire has become a well-known name in the UK and Globally.
Older senior Students who started practicing back in 90`s to now and who have completed the entire Wing Chun Kung Fu or Kali Eskrima/JKD systems
with the authorisation of Master Loukas Kastrounis have now become instructor's themselves at "The Reading Academy" in Berkshire.
Loukas strongly believes, as he has learned from teacher Nino Bernardo Sifu, that in a fight it is not who hits first that wins but who hits last – and if you hit first and the opponents do not hit back…you still hit last! Wing Chun teaches you how not to lose, and Kali familiarises you with practical reactions to the threat posed by weapons.
As Loukas puts it, "Wing Chun is a complete system of self-defence, including boxing, trapping, kicking, grappling and throwing. The only condition for attaining all this knowledge is time – first, complete the entire system in order to understand it and understand yourself. Use the concepts and principles that you have learned and then it will become your own way." It is like handwriting
Since Loukas Kastrounis opened the Reading Academy he has featured in a number of martial arts magazines and newspaper articles in the UK and abroad. He has also been interviewed three times, Listen on BBC Radio Berkshire and watch on BBC TV & KOSMOS TV. In 2000 he was in the limelight when he choreographed fighting scenes at the Mill Theatre Sonning in Berkshire.
In October 2003 Loukas Kastrounis was presented with the Hall of Fame Award by Combat Magazine at an award ceremony in Birmingham for recognition of his commitment and devotion to the development of Martial Arts in the United Kingdom and around the world.
In 2021 Loukas become an author and created a long-awaited Martial Arts book that has been published by YMAA Publication Center.

Loukas Kastrounis was asked to train the Greek Army.
Sunday 9th September 2018
Photo in Neapoli,Lasithi, Crete with the Greek Army & The Greek National Guards. Loukas had the great honour to train the Greek soldiers, the National Guards & High Rank Officers of the Greek Army in Crete island. Armed & Unarmed strategy, combat fighting techniques & concepts of the Wing Chun Kuen kung fu system & Kali Eskrima- Jeet Kune Do Combat skills.
The theme of the training was:
"What you are practising today, can be used today"
Summary  Profession & Achievements Of Master Loukas Kastrounis
Martial Artist
Martial Arts Teacher from 1992
Author- Book writer in 2021
Received the Hall of Fame Award for his contribution & development of Martial Arts around the world in 2003.
Film Actor: GAME OVER by Andrea Di Bartolo
Film Choreographer
Founder of The Reading Academy wing Chun – Kali Eskrima training schools in 1992
Co/founder of the European Wing Chun Association in 2012
The Reading Borough Council in 2013
Appointed to training people with drug & alcohol problems to help them to get out of their addiction.
The Deenway Montessori school in Reading Berkshire 2012- 2014
Appointed Loukas as PE teacher .
Door supervisor & in 1997 appointed by the Brighton Council to training the door staff for safety & security.
General Manager & Marketing manager at the hotels & at the Night club industry in 1982